Game crash when spawn bots with .bot add 1/2/3
ERROR #132 (0x85100084) Fatal exception!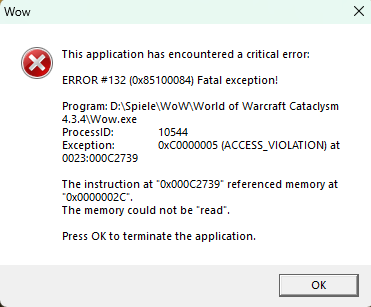 V17 Cata:
I have installed a new Full Client -sometimes by Spawn the 5th Group Member i get this Error Message and WoW exit automatically.
I have tested it with the Mini-Client - same issue
I have tested it on anther PC - same
If i go into LFR Dragonsoul to get automatic a full Raid and go on "Exit Instance" on Minimap i get the Error too
Edit:
i have updated my Nvidia graphic device, in wow options changed to direct x11, no addons, backgroundprograms like discord quit. English Client used. I dont know how can i fix it.
With Pandaria V4 i havn`' t this error.
Have Everyone maybe a Workaround?
Sometimes it works for add one bot , he doesn't have a name. If i add another Bot i get error
Last edited: